Langrisser II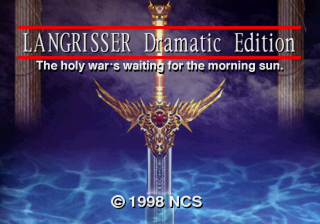 Langrisser II, or more specifically its Der Langrisser incarnation, was the first game in the series to introduce the branching storyline system. Its NEC PC-FX version, Der Langrisser FX, was the first game in the series to add animated cut-scenes.
Depending on the player's choices, the protagonist of the game, Elwin, can switch allegiances between three factions: the Descendants of Light, the Rayguard Empire, and the Demon Tribe. Alternatively, he can choose to create his own faction in opposition to the other three.
Elwin and Hein, his magic-using friend, begin the game by protecting Hein's childhood friend Liana from the ambitions of the Rayguard Empire.
Executive Producer: Mitsuo Shibutani
Main Programmer: Kazuhisa Mitani
Sub Programmer: Kōichirō Fujiwara
Planning and Scenario: Fūma Yatō
Planning Support: Masayuki Suzuki
Scenario Support: Hiroaki Hori, Akira Hazuki
Main Graphics: Masayuki Suzuki
Graphics: Shūichi Kono, Takeyoshi Akane, Noriko Tasaki, Takahide Saitō
Sound Producer: Isao Mizoguchi
Composition and Coding: Noriyuki Iwadare
Sound Operator: Kōji Yoshimura, Kōen Shibuya, Sanae Kasahara
Sound Programmer: Dōgen Shibuya
Character Design: Satoshi Urushihara
Industry: Toshiyuki Komori, Kōichirō Terada
Public Relations: Hiroaki Satō
Technical Advisers: Toshihiko Matsuda, Nobuya Takayoshi
Producer and Director: Shinjirō Kōda
Assistant Director: Hiroaki Hori
Special Thanks: Hisaya Yabusaki, Akira Ishizuka, Kō Kubota