Langrisser Millennium WS: The Last Century
Langrisser Millennium WS: The Last Century
[
edit
|
edit source
]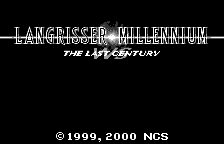 Langrisser is a tactical role-playing game developed by Masaya, the entertainment division of NCS.
Last Century was only released for the Wonderswan. Unlike the preceding title for Dreamcast, Last Century is much closer to the main series, with branching class paths, hire-able mercenaries, and even a secret level with the Aniki.
The story follows the armies of Prince Zion of Salem and his battles.
Character Design (キヤラクターデザイン): Kaishaku (介錯)
Planning (企画): Matasuzawa Taru (松沢 樽), Machida Shūtarō (町田 周太郎), Enomoto Takeo (榎本 岳夫)
Planning Rannaru? (企画欄成): Ikoma Nakamichi (生駒 仲道)
Planning Assistant (企画アシスタン ト): Imai Susumukai (今井 進介)
Scenario Draft (シナリオ原案): Nichitori Miyabi (日鳥 雅秋)
Scenario (シナリオ): Enomoto Takeo (榎本 岳夫), Machida Shūtarō (町田 周太郎)
Script (スクリプト'): Enomoto Takeo (榎本 岳夫)
Minor Character Design サブキャラクターデザイン K2 Company (K2商会)
Creature Design クリーチャーデザイン Enomoto Takeo (榎本 岳夫)
Main Graphics Design メイングラフィック デザイン Tsuboneno Reiko (局野 令子)
Sub Grapics Design (サブグラフィック デザイ ン): Shiotoko (いちお),Matsui Rintaro (松井 麟太郎)
Program プログラム Okada Hiroyuki 岡田 弘幸
Sound サウンド Dota Ando 安藤 童太
Website Promotion ホームページ プロモーション Ikegami Mataryō 池上 又陵
Mesa Can2 メサCAN2 Promotion プロモーション Chiba Wakana 千葉 若菜
User Service ユーザー・サービス Tsubone-Kyo Yoshie 局橋 ょしえ
Production Cooperation 制作協力 :Yoshida Kenji 吉田 賢司 LTD. Santa Entertainment [(株)サンタ エンタテイメント]
ディしクター: Machida Shūtarō 町田 周太郎, Enomoto Takeo 榎本 岳夫
Producer プロデューサー Matsuzawa Taru 松沢 樽
Engineering Executive Producer 工エグゼクティブ プロデューサー Azusa and Masahiro ぁずさ と まさひろ
General Producer ゼネラル プロデューサー Satō Shōhei 佐藤 昌平
Production 制作 (株)シー・ピー・ブLイン