Twin Princesses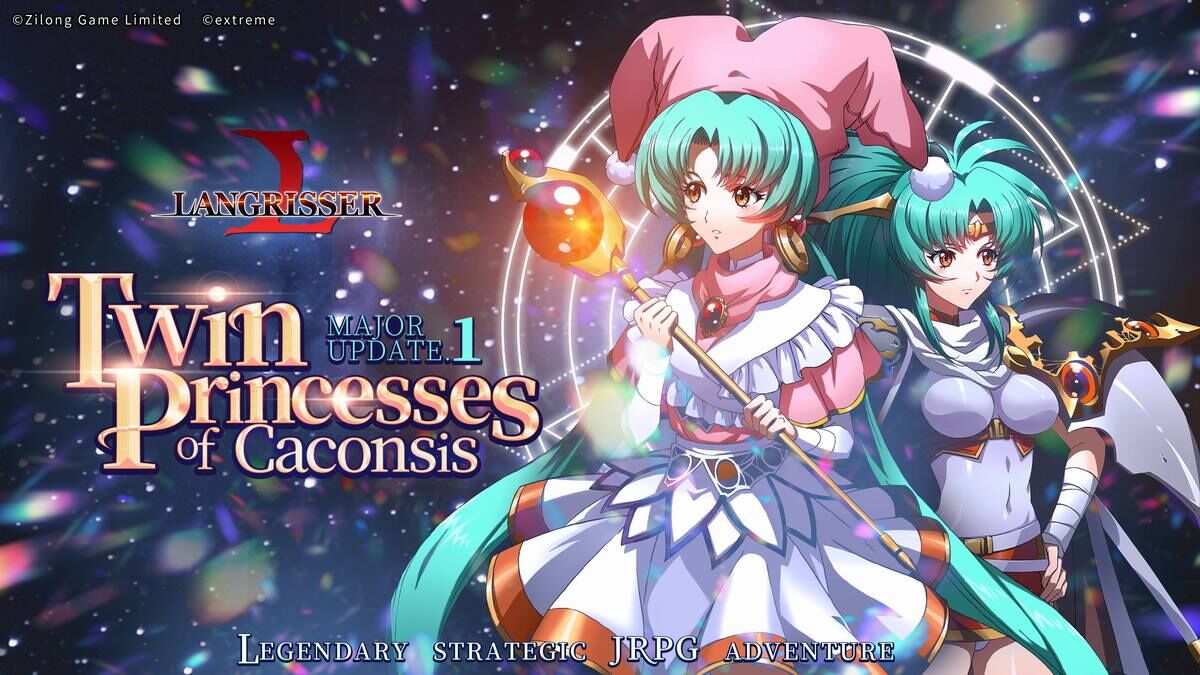 ◆Twin Princesses of Caconsis - Limited Summoning Event◆
★When obtaining an SSR hero during thesummoning event, the chance of obtaining one of the selected event heroes is greatly increased!
★The chance of obtaining an SSR hero is the same 2% as per usual.
◆Limited-Edition Heroes◆
★Heroes with an increased drop rate during this event are:
SSR Angelina, SSR Shelfaniel.
◆[10x Summon] Special Instructions◆
★During the limited summoning period, [10x Summons] will guarantee you at least 1 SR hero.
[Major Update 1] Feb 21st the Twin Princesses of Caconsis Preview⚡️⚡️⚡️
The battle between light and darkness rages on, and a new generation of heroes has embarked on a journey to save the world from Chaos.
✅[New Heroes]✅
Angelina – SSR
One of the twin princesses of the Kingdom of Caconsis, she flies across the indigo sky on her winged horse, a perfect image of beauty.
Voiceover Artist: Nao Shiraki
Shelfaniel – SSR
Daughter of the King of Caconsis, Shelfaniel was renowned in her era for her stunning beauty, along with her twin sister Angelina.
Voiceover Artist: Yurina Amami
✅[New Function]✅
✨Guild Battle✨
Pit your tactics against your rivals in Langrisser's first Guild combat mode. Guild Battle require all members of a guild to work together, and to defeat your enemies, you'll need to fight bravely, as well as coordinate your hero and class combinations with your fellow guild members. Test your mettle against your rival guilds by ranking high in the guild dungeons and find out who the mightiest Guild Leader is, while building unbreakable bonds with your allies! Give it your all in Guild Battle and take an active part in developing your guild, and the Langrisser community!
✨Secret Realm Blessings✨
Some players have commented that it takes too long to finish Langrisser's daily missions, so in this update we'll be introducing the Secret Realm Blessing function, greatly reducing the time and difficulty of daily missions! (💪All stats +30%. Restores 30% HP after taking action and after being attacked.💪)
Your Secret Blessing will take effect in all Secret Realm dungeons apart from the Timeless Trial and the Eternal Temple.
To gain the blessings of the goddess, first you must be able to clear the secret realm stage you desire a blessing on by yourself without help. Once you do so, you will be blessed and can continue to fight that stage with the blessing for PERMANANTLY - FOREVER. The blessing also will be on you in co-op, but you cannot gain it from a win in co-op. You cannot gain a blessing from a low level event and enter a higher level event blessed, the blessing is only available for the exact same difficulty of the stage you solo'd. Example: You solo Level 40 Dragon. You can Repeat or Co-Op L40 Dragon blessed, but you are NOT blessed if you go to L35 or L45 Dragon.
The continent of El Sallia is ever-changing, Commander! Face the new challenges it holds with sword in hand, and the light in your heart!
*For more optimization details, please see the follow-up post.